Live at The Nissan Pavilion
VIDEO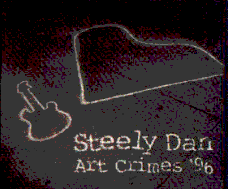 Same concert as the Live in Manassas CD.
---
Steely Dan
Nissan Pavillion at Stone Ridge
July 21, 1996

Video recording
Gainsville, Manassas, VA, USA, July 21, 1996
Intercept from the in-house video monitor broadcast.


A RealVideo clip is viewable at:
http://www.broberg.pp.se/video/josie_manassas.ram
The Midi-sequense , on this page is FM. Originally on the "FM Original Movie Soundtrack Album"
---


This page was produced without commercial intentions of any kind. If you, kind reader, feels that you find something that is offending or violating any persons or applicable laws please E-mail me. All mentioned products and company names are™ or ® trademarks of their respective owners. Please read the disclaimer.
Revision of December 07, 2021 - A Lost Wages Production..

Webmaster