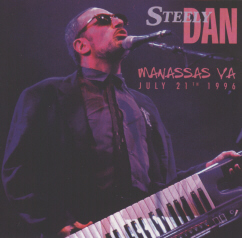 Same concert as the Live at the Nissan Pavilion video.
---
Steely Dan
Nissan Pavillion at Stone Ridge
July 21, 1996

Recorded through the soundboard
Gainsville, Manassas, VA, USA, July 21, 1996
Midnight Beat Records MB CD 101/2
---
Stop, Megan is hungry
Beth wrangler's gotta take a break sometime
gotta feed the machine
Steamer Heaven is empty
a couple kids sitting high on the counter
the love that you need soon
as he walks in the door, she's smiling
covers his eyes with his handscause
everyone knows that its scary out there
when you jump to the wetside
where its cold and its light
and the screaming of flight
and its way complex
and its true how harsh it gets
Meg goes for the bomb
couple of rocks with an angel food healing*
the junk on the top
gives em back an award*
a few backed tears
and you can feel the flame talking
the moment they stand
on the edge of history
fell into animal times
blacked out on the tarmac
it was alive with the sweet sounds of summer
all the steamer's are right
Meg tries to remember
sleepin' kinda cool, but its already fading
back to straight black and white
maybe in need of a ride downtown
covers his eyes with his hands
---
The Midi-sequense , on this page is FM. Originally on the "FM Original Movie Soundtrack Album"
---


This page was produced without commercial intentions of any kind. If you, kind reader, feels that you find something that is offending or violating any persons or applicable laws please E-mail me. All mentioned products and company names are™ or ® trademarks of their respective owners. Please read the disclaimer.
Revision of December 07, 2021 - A Lost Wages Production..

Webmaster