STEELY DAN
Reelin' In The Years
BY BRIAN SWEET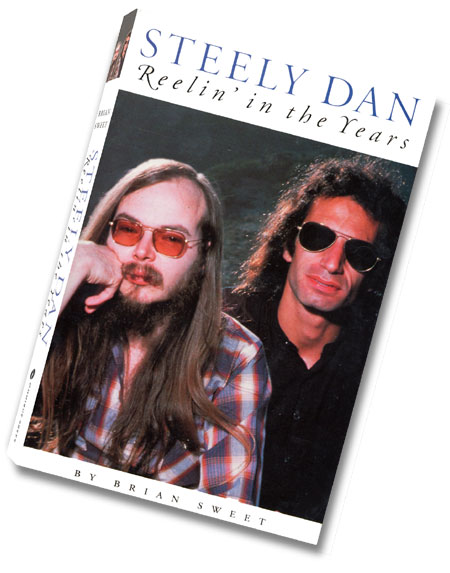 Reelin' In The Years is the first ever biography of Steely Dan,
the super-cool American jazz rock 'band' who have sold over 50
million albums during an up and down career lasting over 20 years.
§
It tells the strange tale of how Walter Becker and Donald Fagen,
a couple of cynical New York jazz fans, wormed their way into a
record contract and astonished critics with the first Dan album
'Can't Buy A Thrill' in 1973. Nine albums later, after 'Aja' had
topped charts everywhere, they were among the biggest selling
acts in the world. Then they quit, only to reform
in 1993 more popular than ever.
§
But Steely Dan were different from the rest of rock's super-sellers.
They rarely gave interviews. After some early bad experiences on the
road, they refused to tour. They didn't have their photographs taken.
Few people knew what they looked like. Steely Dan wasn't even a
proper group; it was two musicians and their producer, yet every top
notch player in the world lined up to appear on their albums. They
were perfectionists. They were enigmatic. They were very rich.
Their music was the coolest around.
§
In Reelin' In The Years, Brian Sweet, editor and publisher of
Metal Leg, the UK based Steely Dan fanzine, finally draws back the
veil of secrecy that has surrounded Walter Becker and Donald Fagen.
Here for the first time, is the true story of how they made their
music and lived their lives.
§
Reelin' In The Years follows this mysterious pair through the
Steely Dan years, their work apart and beyond, right up to their
surprise decision to reform the band. It is one of the most
remarkable tales in rock. It is a must for anyone with a Steely Dan
record in their collection.
§
Includes many photographs and a complete discography.

ISBN 0-7119-3551-3
,!7I0H1B!jdffbi!

UK £9.95 net
Order No. OP47400
---

Copyright © 1994 Omnibus Press
(A Division of Book Sales Limited)
§
Edited by Chris Charlesworth
Cover designed by:
4i Limited, London
Picture research by Brian Sweet & David Brolan
§
ISBN: 0.7119.3551.3
Order No: OP 47400
§
Exclusive Distributors
Book Sales Limited 8/9 Frith Street,
London W1V 5TZ, UK.
§
Music Sales Corporation, 257 Park Avenue South,
New York, NY10010, USA.
§
Music Sales Pty Limited, Lisgar House, 30-32 Carrington Street,
Sydney, NSW2000, Australia.
§
To the Music Trade only: Music Sales Limited,
8/9, Frith Street,
London W1V 5TZ, UK.
§
Printed in the United Kingdom by:
Mackays of Chatham PLC, Chatham, Kent
§
A catalouge record for this book is available from the British Library.
(Second edition 2000 © Omnibus Press)
---


This page was produced without commercial intentions of any kind. If you, kind reader, feels that you find something that is offending or violating any persons or applicable laws please E-mail me. All mentioned products and company names are™ or ® trademarks of their respective owners. Please read the disclaimer.
Revision of December 07, 2021 - A Lost Wages Production..

Webmaster