Walter Becker
Words & Music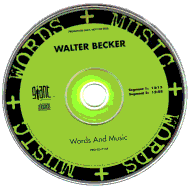 Giant Records PRO-CD-7144
PROMOTION ONLY. NOT FOR SALE.

Interwiew by Davin Seavy with Walter Becker with music from the Giant album 11 Tracks Of Whack
Music Produced by Walter Becker and Donald Fagen. Words + Music Written and Produced by Davin Seavy
---
SEGMENT ONE: 12:13
SEGMENT TWO: 12:58
As one-half of the legendary duo Steely Dan, Walter Becker has fashioned some of the most innovative and influental music of our time. Together with partner Donald Fagen, he wrote and recorded such platinum-selling albums as Aja and Gaucho and created a new standard for songwriting and studio craft.
On extend hiatus from Steely Dan, Becker distinguished himself as a producer, helming projects by a wide range of artists, including Rickie Lee Jones, China Crisis and John Beasley. He rejoined his longtime collaborator as producer on Fagen's acclaimed 1993 album Kamakiriad, and afterwards on a Steely Dan concert tour, the first in over twenty years.
Writing continuosly for a projected solo outing, Becker subsequently began recording tracks in his home studio in Hawaii, working closely with guitarist Dean Parks and eventually with Donald Fagen, who went on to seve as co-producer.
The result is 11 Tracks Of Whack, an album that brings together Becker's ecocative songwriting, distinctive guitar playing and surprising vocal gift on a smart and satisfying solo set.
The special Words and Music interwiew features Walter Becker talking about 11 Tracks Of Whack, the current Steely Dan tour and related matters.
---


This page was produced without commercial intentions of any kind. If you, kind reader, feels that you find something that is offending or violating any persons or applicable laws please E-mail me. All mentioned products and company names are™ or ® trademarks of their respective owners. Please read the disclaimer.
Revision of December 07, 2021 - A Lost Wages Production..

Webmaster