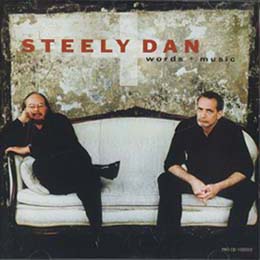 Giant Records
PRO-CD-100003
PRO-CD-4281 (Europe)
PROMOTION ONLY. NOT FOR SALE.

Interwiew with Steely Dan, with music from the Giant album Two Against Nature (4/2-24719)
On Two Against Nature Steely Dan's brilliant new Giant Records release, Donald Fagen and Walter Becker have returned to the studio for the first time since 1979's multi-platinum album Gaucho with a collection of new originals and an all-star cast of supporting players. The result: a quintessential musical blend that consolidates Steely Dan's reputation as one of the most innovative and original songwriting and producing teams of all time.
This edition of Words + Music features an exclusive interview with Donald Fagen and Walter Becker of Steely Dan and tracks from their new Giant release, Two Against Nature. With their trademark synthesis of rock, jazz and musical elements wholly their own, Two Against Nature continues a tradition that began with such landmark hits as "Do It Again," "Rikki Don't Lose That Number" and continued through "Peg," "Hey Nineteen" and many more. Now, after twenty years, Steely Dan picks up where they left off with Two Against Nature, which includes such standout tracks as "Gaslighting Abbie," "Jack Of Speed" and "West Of Hollywood." It's most definitly been worth the wait.
SEGMENT ONE: 16:14

two against nature
what a shame about me
west of hollywood


ALL SONGS PRODUCED BY Walter Becker and Donald Fagen
WORDS + MUSIC WRITTEN AND PRODUCED BY Davin Seay
ENGINEER Keith Blake

PHOTOGRAPHY: Frank W. Ockenfels 3

Promotion Only. Not For Sale

SEGMENT TWO: 17:22

cousin dupree
janie runaway
jack of speed
gaslighting abbie
negative girl

TOTAL TIME: 33:46
---


This page was produced without commercial intentions of any kind. If you, kind reader, feels that you find something that is offending or violating any persons or applicable laws please E-mail me. All mentioned products and company names are™ or ® trademarks of their respective owners. Please read the disclaimer.
Revision of December 07, 2021 - A Lost Wages Production..

Webmaster